Anyone who wants to learn a new language must first take a French level test in order to determine their fluency.
The test consists of 18 multiple choice questions that cover grammar, vocabulary and reading comprehension.
After completing the test, users are given a score that corresponds to one of five levels: A1, A2, B1, B2 or C1.
The benefits of knowing your French level are numerous.
For starters, you can be sure that you are learning the language at the right pace. If you're taking a class or working with a tutor, you can use your French level as a benchmark to ensure that you are making progress.
Additionally, by knowing your level, you can focus on the areas where you need the most improvement. This will help make your learning experience more productive and efficient.
Finally, having a strong foundation in French will allow you to continue progressing in the language and reach higher levels of fluency.
The different levels of fluency in French
There are five levels of fluency in French: A1, A2, B1, B2 and C1. Each level is associated with certain proficiencies in the language.
French A1 level
At the A1 level, you will have a basic understanding of French grammar and vocabulary. You will be able to introduce yourself, ask and answer simple questions, and read short, simple texts.
French A2 level
At the A2 level, you will have a more advanced understanding of French grammar and vocabulary. You will be able to carry on a basic conversation, write simple paragraphs, and read moderately complex texts.
Do you like learning French with videos?
Receive our free video newsletter every Friday in your e-mail box. You will get 3 "Tips & Tricks" on grammar, vocabulary, phonetics or French culture.
👉👉 Sign up now!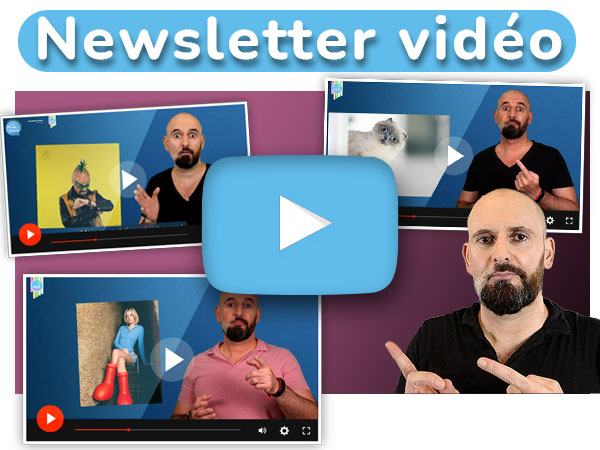 French B1 level
At the B1 level, you will have a thorough understanding of French grammar and vocabulary. You will be able to hold a conversation on most topics, write essays, and read complex texts.
French B2 level
At the B2 level, you will have an expert understanding of French grammar and vocabulary. You will be able to converse on any topic, write professional documents, and read almost any text with ease.
French C1 level
At the C1 level, you will have a near-native understanding of French grammar and vocabulary. You will be able to converse on any topic with fluency and accuracy, write complex documents that are nearly
The French level test
Normally, a French level test includes an oral exam. Indeed, it is important to be able to evaluate a student's ability to express himself and his mastery of French phonetics.
Look at this French candidate speaking in English… You agree with me, a written level test would have been very incomplete, right? 😂
The goal is for you to have a better idea of your French level and to know how you can improve it. So be as honest and objective as possible.
I would like to specify that this is not "scientific" nor very precise. It is important to specify this, because as I am a DELF (Diplôme d'études en langue française) jury, which is a diploma issued by the French National Education, I want to remind you that the test we will take together will only give us an idea of your level of French.
Take a piece of paper and a pen to write down your answers as you go along.
After each question, you will have the symbol to mark according to your answer.
Are you ready? Let's go for your French level test!
Question:
YES?
NO?
1
French grammar is difficult for you.
For example, you have trouble with all pronouns (direct, indirect, tonic, etc.), you never know exactly where to put them in the sentence.
✨
🌞
2
You know what the French subjunctive is but you "forget" to use it when you should.
✨
❤️
3
You dream in French.
❤️
✨
4
When you talk to a French speaker, he or she has to speak slower for you to understand.
✨
🌞
5
You understand humor in French.
🌞
❤️
6
You use the French grammar rules naturally, without problem.
🌞
❤️
7
When you speak in your native language, you sometimes use French words.
❤️
✨
8
You can understand people speaking French, but you have difficulty participating in the conversation.
✨
🌞
9
You are able to distinguish the different accents in French, someone from Marseille or from the North…
🌞
✨
10
You feel frustrated when you speak French because you have trouble to express exactly what you want to say.
✨
❤️
11
You need to translate directly from your language.
✨
❤️
12
You understand French slang or "verlan".
🌞
❤️
13
You have only one way to express what you want to say in French. You have trouble rephrasing with different words and synonymous expressions.
✨
❤️
14
You know what are the "plus-que-parfait", the "futur antérieur" or "gérondif", but you never use them.
✨
🌞
15
You understand without any difficulty the French language of everyday life (bakery, café, restaurant, events…)
❤️
✨
16
You understand irony and sarcasm in French.
🌞
❤️
17
You can understand the hidden meaning of a French text by reading between the lines.
🌞
✨
18
You understand at least 70% of a French movie (without the subtitles).
❤️
✨
French test level
Your French test results
| | |
| --- | --- |
| | French level: |
| More of 10 ✨ | A2 |
| Majority of ✨ but at least 5 ❤️ | B1 |
| More of ❤️ | B2 |
| Majority of 🌞 and at least 5 ❤️ | C1 |
Results of the French test level
How to focus your French learning based on your level?
Attention, being "good" in French grammar does not determine your level.
It's true that French grammar is difficult… It's true that French grammar is important to communicate… But it doesn't determine your level!
For example, at the DELF, you are evaluated on the 4 skills which are :
oral comprehension (understanding the spoken word)
oral production (speaking)
written comprehension (understanding texts)
written production (writing texts)
Once you know your French level, you can focus your learning on the areas where you need the most improvement.
If you're a beginner, for example, you should focus on basic grammar and vocabulary.
If you're at an intermediate level, you should focus on improving your conversation skills.
And if you're at a advanced level, you can focus on mastering more difficult grammar concepts and expanding your vocabulary.
No matter what your level is, it's important to stay motivated and keep practicing. By focusing your learning on your specific needs, you'll be able to progress more quickly and achieve fluency in French.
How to progress in French to a higher level of fluency?
You are intermediate (A2/B1):
1) Make short sentences!
Maybe in your mother tongue you are used to make sentences 2km long, with multiple relative pronouns… Hum… Anyway, it's not great for comprehension in general, but in French, it's still a bit early.
To make it easier for you to participate in discussions, start with short sentences.
"Short sentences" means sentences a little longer than "oui", "non", or "ok"… 😉
2) Once or twice a week, write small texts (about 100 words).
This will train you to use grammar rules. During the few minutes of writing, you'll be 100% focused on the French language.
Read the articles on how to improve your French writing.
You are advanced (B1+/B2):
1) Write long texts (about 300 words).
This will force you to structure your thoughts in French, to know the logical connectors to link ideas, to use synonyms so you don't repeat the same words throughout your text.
2) Read a lot more.
Whether it's the press or literature, both will allow you to enrich your French vocabulary thanks to the many synonyms you will discover and to regularly see how to use complex sentences.
Regular reading will also help you improve your spelling.
3) Watch French language series.
The series will allow you to get used to the pronunciation of the actors and the vocabulary of their characters.
The first few episodes may be a little difficult to understand, but episode after episode, season after season, you will get used to the way the actors speak.
Examples of French series:
Humor:
Fais pas ci, fais pas ça; (ab B1)
10 pourcent ; Kaamelott (ab B2)
Bref (very short episodes, but very fast character flow! ab C1)
Scènes de ménages (ab B1)
Thriller:
Braquo (ab C1 because a lot of slang and street language)
Engrenages (ab B2)
Le bureau des légendes (ab B2)
You are expert (B2+/C1):
1) Listen to the radio.
This is the most difficult listening comprehension exercise. But you should know that radio is very popular in France and that TV stars all have a radio show.
In France, radio is not a step before television, but a medium in its own right.
You will find radios in all styles.
Examples: Europe 1, RTL, France Info…
2) Watch talk shows and movies.
The goal is for you to understand all the subtleties of the language and to understand what they are used for in context.
The French LOVE to debate about anything and everything. On the Internet, television or radio, you will always find content with people discussing, disagreeing or even arguing. So, you have many choices to improve your subtle understanding of French.
And in any case, talk, talk and talk some more! The more you can speak French with native speakers, the more you will improve your level.
Conclusion
So, there you have it! A little bit about the French level test and how to focus your learning based on your score. Keep in mind that these are just general guidelines – everyone progresses differently and there is no one-size-fits-all approach to language learning.
If you're having trouble progressing to the next level or feel like you've hit a plateau, don't hesitate to get in touch with us for some personalized advice. And most importantly, have fun while learning French!
Au revoir 😊
---
Articles that might interest you: