In most countries of the world, the French national holiday is connected with the Bastille: Bastille Day in English, Tag der Bastille in German, Dia de la Bastilla in Spanish, Giorno della Bastilla in Italian, etc.
In France, we just say Le 14 juillet or La Fête Nationale. Of course, the Bastille Day (i.e. the attack by Parisians on the Bastille, the prison that symbolized the tyranny of the King in the eyes of the people) marks the beginning of the French Revolution, on July 14, 1789.
If you're in France for Bastille Day because you love traveling in France, and after reading our article on the origins of the French flag, here's everything you need to know about Bastille Day.
But the National Holiday does not go back to 1789, but to 1880: on July 6, 1888, the Deputy Benjamin Raspail voted a law that will bear his name to establish July 14 as National Holiday.
So which 14th of July do we celebrate in France?
July 14, 1789, commemoration of the storming of the Bastille
July 14, 1790, celebration of the Fête de la Fédération, symbol of the rediscovered unity (for a time) of King Louis XVI and his people. A less bloody symbol for some parliamentarians than the storming of the Bastille a year earlier.
In fact, we don't know… To satisfy revolutionaries and royalists, the Raspail law kept the text deliberately short: "the Republic adopts July 14 as its annual national holiday".
What happens in France on the French Bastille Day?
French Bastille Day: The French firemen's ball
In Paris, it all starts on the evening of July 13 and continues on July 14, from 9 p.m. to about 4 a.m., with the traditional Bal des Pompiers. These balls are organized everywhere in France in fire stations and animated by the firemen themselves. Gymnastics demonstrations, fire starts, DJ, refreshment bar (improvised bar), snack bar (improvised restaurant)… For one night, the fire stations are transformed into discotheques!
The tradition of the Firemen's Ball goes back to 1937: it all started in the Montmartre district of Paris. On their way back from the July 14th military parade, in which the firemen from the Montmartre fire station had taken part, a group of passers-by crashed into the firemen's procession and sympathized. One of the firemen offers to show them around his fire station. This is the beginning of the Firemen's Ball!
Many French people first practiced the famous French Kiss here… Oh là là 😍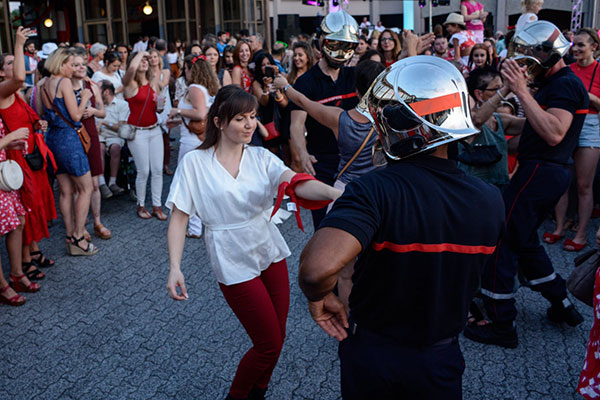 French Bastille Day: The French presidential speech
July 14th also rhymes with the interview of the French president of the republic. It is a style exercise: since 1978, all presidents (or almost) have participated in this ritual. It is an opportunity to take stock of the major issues of national or international politics, live on public television.
Do you like learning French with videos?
Receive our free video newsletter every Friday in your e-mail box. You will get 3 "Tips & Tricks" on grammar, vocabulary, phonetics or French culture.
👉👉 Sign up now!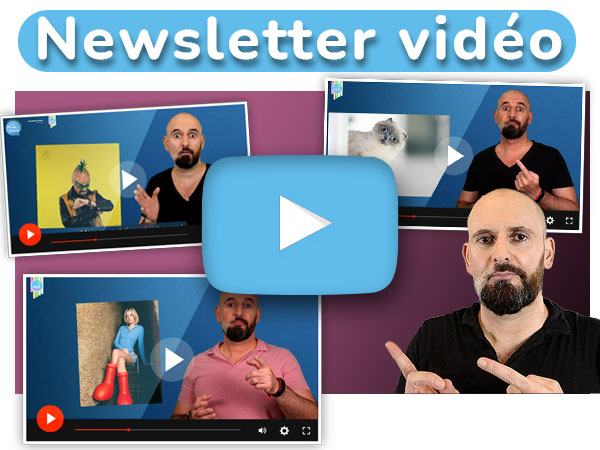 The French military parade on the French Bastille Day
July 14th is a day rich in official celebrations but the parade on the Champs Élysées is the central event. Each year, the parade has a name. In 2022, the theme of the ceremony is Sharing the Flame, in reference to the flame on the Tomb of the Unknown Soldier and that of the 2024 Olympic Games that will be held in the French capital.
On this occasion, the president reviews the troops and then, for two hours, spectators have the opportunity to see the military parade: it is 5000 soldiers on foot, 200 horses of the Republican Guard, hundreds of war machines that descend the Champs Élysées, overflown by planes and helicopters of the air force and for the first time in 2022, a military drone will fly over Paris.
Without forgetting the famous Legionnaires of the Foreign Legion, the only army corps authorized to parade at a different pace from the others.
Why does France organize a military parade?
In 1870, the French army of Emperor Napoleon III suffered a terrible defeat at the hands of Prussia, which, after the capitulation of France, annexed two French regions: Alsace and Lorraine. The French live it as a humiliation.
Ten years after the defeat against the Prussians, the Republic wanted to show the national and international opinion that France had reconstituted its army. It decided to institute a military parade on July 14, with flags, parades, speeches… In short, the ancestor of the current holiday!
Ce vendredi 14 juillet 2023 c'est le traditionnel défilé militaire du 14 juillet mais que célèbre-t-on le 14 juillet ? Non, ce n'est pas la prise de la Bastille qui est commémorée, mais la fête de la Fédération qui s'est tenue un an plus tard, le 14 juillet 1790. Organisée par Lafayette, le commandant de la garde nationale (la milice formée par les bourgeois de Paris pour maintenir l'ordre), la fête de la Fédération célébrait le premier anniversaire de la prise de la Bastille.
Pourquoi les militaires défilent-ils le 14 juillet ?
C'est la IIIe République qui institue le défilé militaire du 14 juillet. Dix ans après la défaite de 1870 contre les Prussiens et la capture de Napoléon III, la France veut montrer qu'elle a reconstitué son armée. Et surtout qu'elle est prête à reconquérir l'Alsace et la Lorraine, provinces abandonnées à l'ennemi à la faveur de la capitulation. Les régiments, réunis sur l'hippodrome de Longchamp à Paris reçoivent leurs nouveaux étendards des mains de Jules Ferry et Léon Gambetta. On exalte l'unité de la nation dont l'armée devient la garante.
Source : Ca m'intéresse
French Bastille Day: a popular festival
July 14th is therefore a demonstration of the French military power. But it is also a holiday placed under the sign of conviviality: street meals, buffets, popular balls, concerts, fairs and especially fireworks in the four corners of France…
Beware, some cities prefer to shoot the fireworks on the evening of July 13. Find out more beforehand 😀
And, exceptionally, in 2022, some municipalities have canceled the fireworks because of a very strong drought and therefore the risk of fire outbreak.
The Eiffel Tower in the spotlight during the French Bastille Day
The fireworks of the Eiffel Tower is also a moment impossible to circumvent of the French national holiday. It starts at nightfall (around 11 pm) and it is always spectacular. The show lasts about 30 minutes and always revolves around a specific theme. For this year 2022, the theme is Freedom.
French Bastille Day: of course it's holiday
Firemen's balls, military parades, fireworks, simply lazing around, a nice little word that the French stole from the Italians (farniente): Rien-Faire… What an art! For many French people, La Fête Nationale is not a big celebration like Christmas or the 4th of July for Americans. But it is a holiday, that is to say a day when one does not work.
It is a day to sleep in, to enjoy the sun, to see family, to have a picnic with friends or just to… do nothing, the famous Farniente stolen from the Italians.
"Faire le pont"
In 2022, July 14 falls on a Thursday, so many French people will take the bridge. Bridging the gap means that they will not work on Thursday, July 14th, which is normal since it is a holiday AND they took a day off on Friday to enjoy a long four-day weekend, time for aperitifs with friends and family 🌞
If you are in France on July 14th, don't be surprised if everything is closed: public transportation is reduced, stores, museums, cinemas… closed! You'll have to find other things to do.
But maybe you'll have danced all night at the Firemen's Ball and you'll be glad to have a quiet day!
So what does all of this have to do with Bastille Day? Not much, actually. But it is a fun factoid that I like to share with my students every year on National Day. It's a way to help them remember the holiday and its significance, even if they're not too interested in history.
And who knows? Maybe some of them will be inspired to learn more about France after hearing about our country's rich history and culture. In any case, I hope you've enjoyed learning about French Bastille Day.
Vive la France ! 😃
---
Articles that might interest you: