You have planned a stay in France or in a French-speaking country for your vacations? Here is a selection of tips, tricks and vocabulary in French that will be very useful.
What better way to get into the holiday spirit than by learning some French vocabulary? Here are a few key phrases and words that will come in handy during your next festive gathering.
Les vacances – Holidays
Bonjour/bonsoir – Hello/good evening
Comment ça va ? – How are you?
Je vais bien, merci. – I'm fine, thank you.
Désolé, je ne parle pas très bien français. Pourriez-vous parler plus lentement s'il vous plaît ? – Sorry, I don't speak French very well. Could you please speak more slowly?
Je voudrais réserver une table pour 4 personnes à 19h – I would like to reserve a table for 4 people at 7pm
J'ai une réservation au nom de M./Mme [your name] – I have a reservation in the name of Mr./Ms. [your name].
Est-ce que vous avez une carte en anglais ? – Do you have a card in English?
Pourrions-nous avoir l'addition s'il vous plaît ? – Could we have the bill please?
On paye par carte / en espèces – We pay by card / in cash
A quelle heure commence l'activité / le spectacle ? – What time does the activity / show start?
A-t-on le droit de fumer ici ? – Are we allowed to smoke here?
Avez-vous un cendrier ? – Do you have an ashtray?
Avez-vous du feu ? – Do you have a light?
Pardon, la fumée ne vous dérange pas ? – Excuse me, do you mind the smoke?
Je voudrais un café avec un verre d'eau – I would like a coffee with a glass of water (in France, when you order a coffee, you get an espresso. If you want a long coffee, you have to order an Americain or café allongé)
Do you like learning French with videos?
Receive our free video newsletter every Friday in your e-mail box. You will get 3 "Tips & Tricks" on grammar, vocabulary, phonetics or French culture.
👉👉 Sign up now!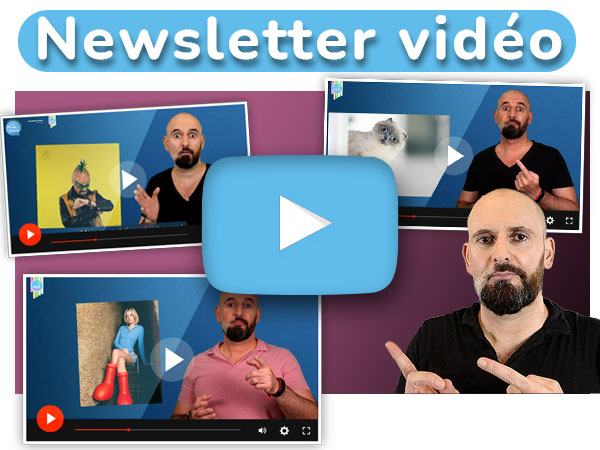 💡 In general, don't be afraid to be overly polite and add s'il vous plaît (please) at the end of all your questions. The French always feel that foreigners are arrogant with them… Yes, I know, it's the world upside down! 😂😂
Also, don't be surprised if the staff in restaurants, cafes and other places that receive tourists seem, at first, cold and distant. In France, it is because you will come back regularly to the same place that the staff will be more and more friendly with you.
And now, a selection of items that we love to see because they are synonymous with vacations 🌞🌞
Vacation items in French







📌 Follow us on Instagram

Check out our Instagram account. Every day a different French resource to help you learn.
Ask for directions in French
Quel est le chemin pour aller à la gare / la plage / la rue blablabla ? – What is the way to go to the station / the beach / the street blah blah blah?
Vous allez tout droit – You go straight ahead
Vous tournez à droite – You turn right
vous tournez à gauche – you turn left
Vous continuez tout droit – You go straight on
Vous prenez la première rue à droite/gauche – You take the first street on the right/left
Après le rond-point, c'est à gauche/droite – After the traffic circle, turn left/right
Vous êtes beaucoup trop loin, faites demi-tour – You are too far, turn around
Traversez la rue / l'avenue / le boulevard et vous êtes arrivés – Cross the street / avenue / the boulevard and you have arrived
🌞 What do the French do on vacation?

The French love to travel, and they have a number of favorite vacation spots.

Many people enjoy visiting the beach, and the French Riviera is a popular destination. The city of Nice is also a popular spot for tourists, as it is filled with history and culture.

For those who enjoy the outdoors, the Alps are a great option, and there are many small villages to explore.

Finally, many people enjoy visiting Paris, which is considered the most romantic city in the world.
No matter where they go, the French love to enjoy good food and wine, and they often take
time to relax in cafes and parks. Whatever their destination, the French know how to enjoy a vacation!
What are some French useful vocabulary words related to travel?
When you're planning a trip to France, it's helpful to know a few key phrases in the local language. After all, even the most basic conversation can be difficult when you don't share a common language. To get you started, here are a few useful French vocabulary words related to travel.
The first word you'll need to know is bagage (luggage). This word covers any kind of bag or suitcase that you might bring on a trip, so it's essential for getting your belongings through customs.
Another important word is passeport (passport). This document is required for international travel, so make sure you have it with you before you leave for France.
avion – airplane // aéroport – airport
If you're flying to France, you'll need to know the word for avion (airplane). This will come in handy when booking your ticket and going through security at the airport.
⚠️ Be careful with the verb you use with the word avion. We say: prendre l'avion or aller en avion.
Once you arrive in France, you'll need a place to stay. It is the same word as in English with almost identical phonetics. That's nice.
If you're not renting a car, you'll probably need to take a taxi at some point during your trip. The French word for taxi is taxi, which should be easy to remember.
And don't worry, the UBER application exists and works very well in France. You can ask President Macron… 😂
No trip to France would be complete without trying the local cuisine. The word for restaurant will come in handy when you're ready to find a good meal.
By knowing these key French words, you'll be better prepared for your next trip to France.
How I spend my Christmas holiday in French?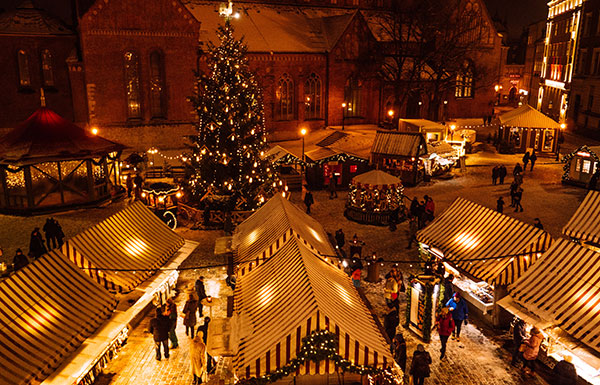 If you're looking for a truly unique way to spend your Christmas holiday, why not try celebrating in French? France is home to some of the most festive and beautiful Christmas traditions, and spending the holidays in this romantic country is an experience you'll never forget. Here are a few tips to help you make the most of your French Christmas holiday:
Start by decorating your house in traditional French style. Think garlands of greenery, strings of lights, and colorful ribbons. Make sure to also put up a star or angel on your Christmas tree.
On Christmas Eve, enjoy a feast of French delicacies such as foie gras and oysters. Then, attend Midnight Mass at one of France's stunning cathedrals. Afterward, head out into the streets to enjoy the magical atmosphere of Paris on Christmas night.
On Christmas Day, open your presents around the tree before sitting down to a lovely family meal. In the afternoon, take a stroll through your neighborhood to admire the festive displays in people's windows. And don't forget to enjoy a few tasty treats along the way – after all, what's Christmas without gingerbread cookies
French Vocabulary for the Christmas Holidays
Joyeux Noël – Merry Christmas
Meilleurs vœux – Best wishes
La bûche de Noël – The Yule log (a traditional French dessert)
Un bonhomme de neige – A snowman
La crèche – Nativity scene
Le Père Noël – Santa Claus
Les lutins – elves
Les marchés de Noël – Christmas markets
Le sapin – Christmas tree
Noël – Christmas
Le Nouvel An – New Year's Eve
La Saint-Sylvestre – New Year's Day
La fête des Rois – Epiphany
Les cadeaux – presents
Galette des Rois – Epiphany cake
Les rennes – reindeer
Les chocolats de Noël – Christmas chocolates
Les bonnes résolutions – New Year's resolutions
"Talking about holidays in French"
"How would you describe your vacation in French?"
"French essays about holidays"
French exam about your holidays in France
A typical exercise topic for a French exam is to talk about your vacation.
Here are some tips:
Read the instructions carefully and check that you are not being asked to do anything specific (type of writing: blog, email to a friend, essay…)
Remember to speak in the past tense! Try to use the imperfect tense for the descriptions (il faisait beau, les gens étaient sympas…) and the past tense for the main actions (je me suis beaucoup amusé, j'ai goûté toutes les spécialités de la gastronomie française…)
Show that you have specific vocabulary about vacations. Use the right words: une chaise longue, un parasol, prendre l'avion…
Reread your text before handing it in to the teacher!!!
Bon voyage ! And remember, the more French you know, the better your trip will be.
Vive la France !
Now that you have learned some essential travel vocabulary words, it's time to put them into practice! I hope you have a wonderful time in my beautiful country.
Au revoir !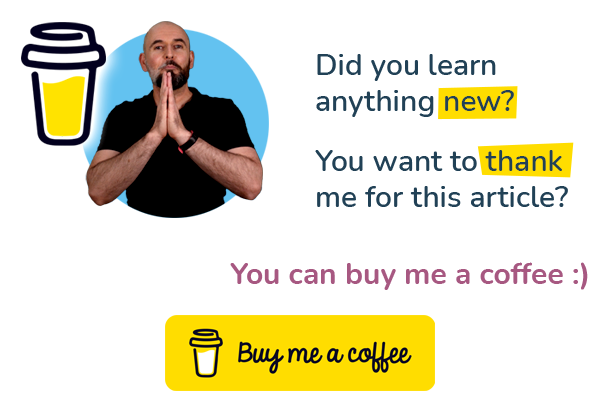 ---
Articles that might interest you: